Our company's quality philosophy is that our products, our logistics and our services comply fully with our customers' and all legal requirements at all times. We strive for constant improvement, and invest the highest personal commitment in producing the best products at all times.
Our customers' wishes and expectations are always the focus of all our business processes. We delight our customers with the best quality, expert and personal advice, reliability, short delivery times and an excellent price-performance ratio.
In addition to the observation of legal requirements (as a matter of course) and our own requirements and self-commitments, we also observe our internal definitions for quality, hygiene, the environment, occupational safety and fire prevention.
With constant internal and external checks and analyses and a continuous batch traceability system, we practice preventative consumer protection on every production, processing and marketing level.
In order to ensure that our suppliers and contractual partners have the same standards as we do, we assess and evaluate them at regular intervals. The quality standards for, for example, our choice of suppliers, for safe production conditions and for our products are constantly improved in the dialogue with our customers. Customer satisfaction is our ultimate aim.
We maintain expert exchanges on all current matters concerning quality and hygiene with our customers, suppliers and partners.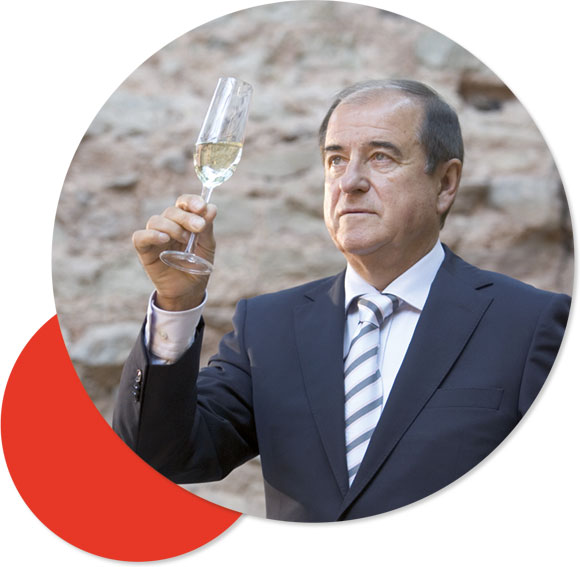 Certifications and awards
Since 1970: First DLG awards
1994: First company in the industry in Germany to achieve ISO certification
2004: One of the first companies in the industry in Europe to achieve IFS certification (International Food Standard), higher level
2007: Certification to the EU Organic Farming Regulation
2007: Certification to BRC British Retail Consortium
2009: Anuga Wine Award for our quality Riesling Sekt extra dry
2011: Anuga Wine Award for our quality Chardonnay-Riesling Sekt extra dry
2013: Jive named the Top brand of 2013 by "Lebensmittel" magazine
2014: Hong Kong International Wine & Spirit Competition award "Bronze" for Herres Chardonnay-Riesling Sekt extra dry

2015: Graf Artos received DLG Gold again
2016: Graf Artos Strawberry has received the DLG Gold Award. Jive with sparkling wine & cherry blossom has been given the award " product of the year 2016 - bronze" by a leading food trade magazine in Germany. Jive with sparkling wine & peach-apricot was voted third at "HIT 2016 - trade survey" which was hold by the German trade magazine "Lebensmittel Praxis"

2017: Romeo Bellini was awarded a gold medal by the DLG (German Agricultural Association)
2018: Herres Riesling Sekt extra dry has been awarded a silver medal
(91 points) by Decanter - Asia Wine Awards
2019: Herres Hochgewächs quality sparkling wine dry receives the gold medal of the Berliner Wine Trophy 2019. The successful cocktail brand Gracioso receives the DLG gold medal for the varieties Hugo Blue, Hugo Green and Hugo Rosé
2020: Herres Chardonnay Riesling quality sparkling wine extra dry receives the silver medal of the Berliner Wine Trophy 2020. The Gracioso cocktails Hugo, Hugo Black, Hugo Limone, Hugo Passion, Sprizz and Sweetly Gold are awarded with DLG medals