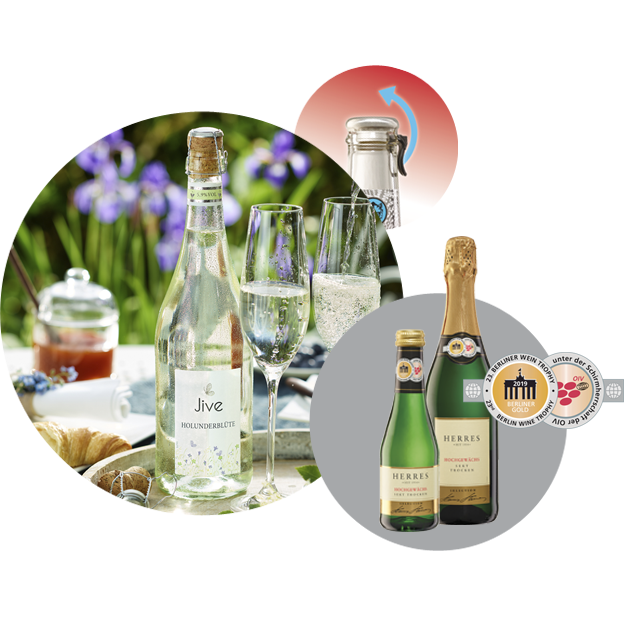 2020: The brand Jive gets a completely new design to meet the changing requirements of the customers. Relaunch of the Jive website. Our private label HERRES Chardonnay-Riesling receives the Berliner Wine Trophy silver medal 2020.
2019: Expansion of the closure options of various bottles with crown caps and ring-pull closures. Commissioning of a new modularized labeling machine on filling line 4 and a machine for multipacks of small bottles, e.g. 3 or 4 packs. Our private label HERRES Hochgewächs quality sparkling wine wins the Berliner Wine Trophy gold medal 2019 for its excellent taste.
2018: Acquisition of a new capsule machine with camera alignment for filling line 2. Installation of a cold storage for the storage of fruit concentrates. The brand Jive celebrates its 10 year anniversary with a party-edition.
2017: Commissioning of a module labelling machine at filling line 1. Extension of our private label HERRES with a German Riesling quality sparkling wine extra dry.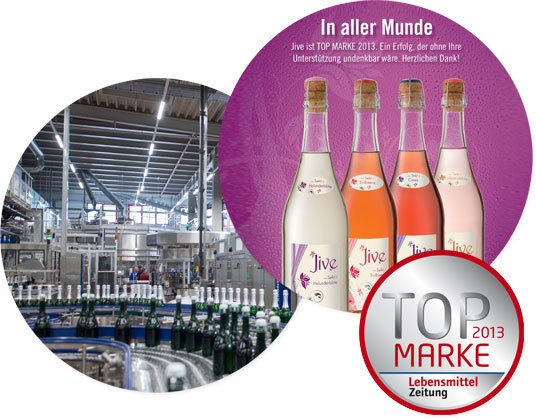 2016: Relocation of our factory store to the neighbouring building. Jive cherry blossom receives the award "Product of the year 2016 – bronze" (consumer survey of the journal "Lebensmittel Praxis"). Jive peach-apricot ranked 3rd place at the HIT 2016 – dealer survey verified through the journal "Lebensmittel Praxis".
2015: Commissioning of a new multi-function system with an output of 18,000 bottles/hour.
2014: Finished goods warehouse extended by 10,000 m² and six loading ramps. Modernisation of the bottling plant. Construction of a sparkling wine centre of excellence. Construction of a new filling hall.
2013: Tank storage capacity increased by 5 million litres. Jive is named the Top Brand of 2013 by the food magazine "Lebensmittel". Jive website goes live.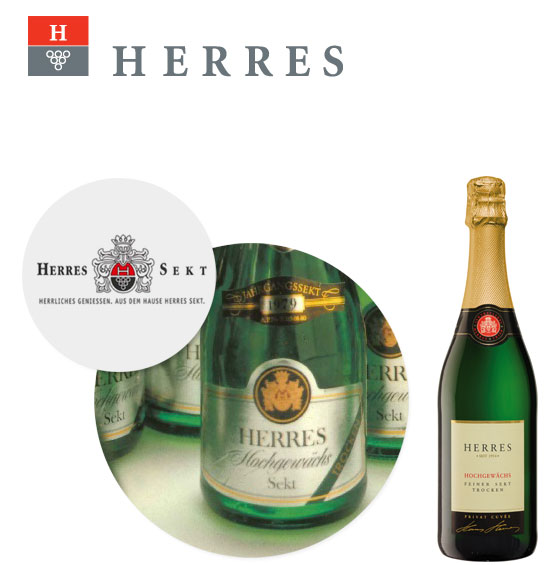 2012: Sales exceeded 100 million bottles for the first time ever.
2011: Graf Artos berry semi-sparkling wine awarded DLG Gold. Purchase of a new state-of-the-art labelling machine allows even more flexibility in packaging design.
2010: Graf Artos is the only berry semi-sparkling wine in its category to receive a DLG award.
2009: Implementation of the fourth bottling plant – capacities increased by a further 25,000 bottles an hour. Launch of the brand Herres Riesling sparkling wine.
2008: Relaunch of the brand Herres Hochgewächs. Reorganisation of the factory shop. Introduction of Jive and Aperito, the cocktails with sparkling wine, which remain successful to this day.
2007: Restructured as Herres Gruppe International with a new corporate identity.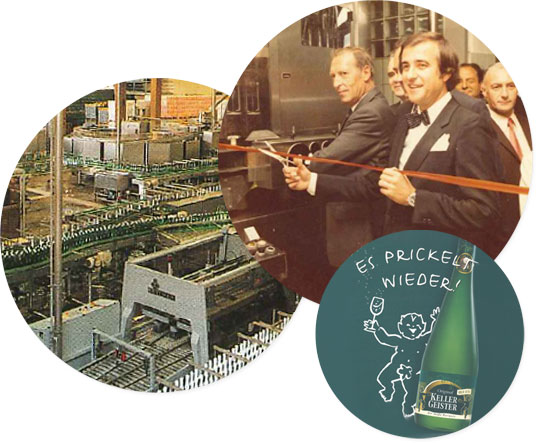 2006: Expansion of the finished product warehouse by a further 10,000 m².
2005: Acquisition of a sleeve facility.
2004: One of the first companies in the industry in Europe to receive IFS certification.
2002: Introduction of the pre-mix brands Blizzard and Ustinoff. Still the unrivalled market leaders in Germany today.
1999: Development of new markets and target groups with Chiang Mai Kombucha – Herres's first non-alcoholic wellness drink.
1994: First German company in the industry to receive ISO certification.
1994: Takeover of the brand KELLER GEISTER – to date, well over 1 billion bottles have been sold.
1991: Official opening of the world's largest sparkling wine bottling plant by EU Commissioner Bangemann. Filling capacity: 32,000 bottles an hour.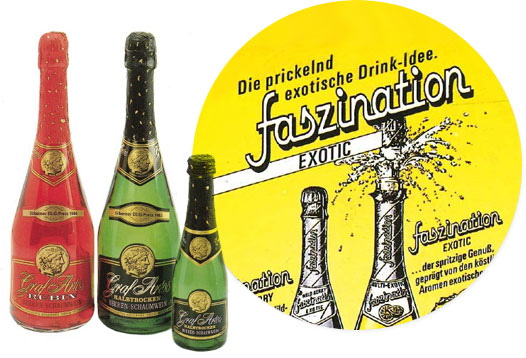 1988: Creation of the first convenience cocktail, FASZINATION. Today an internationally distributed brand.
1983: Launch of the brand Graf Artos – still one of the Herres Group's most successful brands today.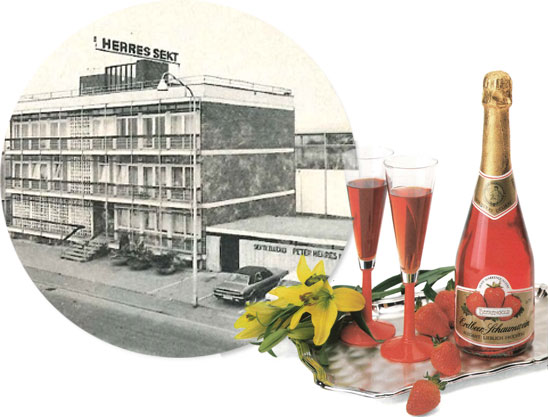 1969: Development of the first export trading markets with the Benelux countries, followed in the 70s by the UK and Scandinavia – and to over 40 countries all over the world today.
1968: Creation of the first strawberry sparkling wine, HERRES Erdbeer-Gold, which became the market leader in this segment within 5 years.
1959: New company head office in Trier: due to the company's success, it relocated to new and much bigger premises in Trier.
1954: Founding of the Peter Herres wine and sekt (sparkling wine) factory in Leiwen. First sparkling wine brand: HERRES Cabinet, which was to prove extremely successful at the time.